Local Authors - Sacramento area
We carry books of local authors! 
   Suzanne Glidewell
Suzanne Glidewell was born and raised in Vancouver, Washington and is an alumna of University of Washington in Seattle. Suzanne is a proud and practicing Cradle Catholic. She lives in Sacramento with her husband and three children. They make it to Mass...most of the time.
Somewhere in Between - Any hopes of creative fulfillment are crushed when twenty-six year-old Thomas O'Hollaren is forced to abandon his starving-artist's lifestyle and return home to Seattle to run the family business. Stuck in limbo and unavoidable guilt regarding his past relationship with his father, Thomas finds an unexpected friendship that begins to challenge his pessimism towards people, love, and faith. Optimistically waiting for her one true love is proving to be challenging and incredibly frustrating for Maura McCormick. She begins to doubt if she has the spiritual wherewithal to meet the standards of the devout dating pool of Blessed Sacrament Church. As she struggles to determine what level of holiness is required for the committed, romantic love she craves, it is Maura's inherit desire to care for those in need that may end up leading her away from what, and who, she always thought would make her happy.
Somewhere Unexpected - Life is finally starting to turn out just as Maura McCormick has always expected. She should be overcome with joy (and relief) given the highly anticipated marriage proposal from her handsome (but more importantly, devoutly Catholic) boyfriend, Ethan. Instead, Maura is met with an inability to quiet growing apprehension. When the unexpected has always led to pain and disappointment, is it crazy to think that the unexpected is what her heart truly wants? Caring about anything besides himself was the last habit Thomas O'Hollaren ever thought he'd pick up after returning home to Seattle. But his unlikely friendship with Maura McCormick seems to have put a pause on Thomas' lifelong track record of selfishness. Is this newfound goodness genuine or is it just a ploy to take advantage of another woman?


 Shea Robinson 
Shea Robinson was reading before she started walking. She started writing shortly thereafter. Her biggest frustration is that she can't read and write at the same time. When she's not lost in a good book, she is dancing with her three-year-old niece, listening to her husband nerd rant about superheroes for his movie review channel, and dreaming about the last time she had French Silk ice cream in the fifth grade. She currently lives in Sacramento.
  Ronnie Rush
Ronnie Rush left Hollywood in 1984 to come to Sacramento to be with his First Love. Ronnie knew no one except the girl he was coming to be with and start a new life. Read more about Ronnie as he, like Rush Limbaugh made Sacramento their adopted Hometown. Through the years, Ronnie blazed a trail in radio, concert promoter, as well as becoming a local Author. Prior to Sacramento, Ronnie was with a famous group, known around the world and worked for Hamilton, Joe Frank & Reynolds as a Roadie. Read all about it in his first of two books, Life of a Roadie, the Gypsy in me. His second just released book, Walk A Mile in my Shoes.
   Veronica Pittman
Veronica Pittman is a San Francisco native and mother of two girls. She has been writing most of her life. Her children inspired her to start writing children's books because they love hearing stories that she makes up for them. Her stories are based on her two daughters and interesting experiences that they have encountered. They are fun and relatable stories that will keep your child interested in reading. Stay tuned for more fun adventures with Paris and Cali.
The Adventures of Paris and Cali: Paris and Ricky. Join Paris for another wild adventure as she discovers a new furry friend. Find out if she has what it takes to handle here new responsibility. 


    Brittney LeBlue
Brittney Y.S.L LeBlue is a South Central native and is no stranger to the many experiences that being born and raised in the inner city of LA has to offer. Deciding that right after high school she wanted to see more, she moved to the Bay Area to attend Cal State East Bay.  Becoming a mother at age 19 did not stop Brittney from pursuing her education. She enrolled in Community College and worked part time while independently raising her 1st son. Fast forward 13 years later Brittney is now a mother of two wonderful boys Khalil who is 13 and Amir who is 8 and has earn a B.A in Psychology & Masters in Educational Technology, started her own custom jewelry business and now is a Self-Published Author.
Her book, 30 Days of Truth: Guided Journal with Poetic Undertones, was created as the 1st serving within a 3-book collection designed to provide "you the reader" with clarity, compassion, and confidence to live in your truths. When you start to know yourself, you can recognize your truths and have the courage to live out loud. Every page is a journey that offers you a seat at the table of life. You will be inspired to have internal conversations that will make you cry, that will make you laugh, and that you make you say, "Damn that was Deep!" Brittney is still just a kid at heart trying to make her LA dreams come true.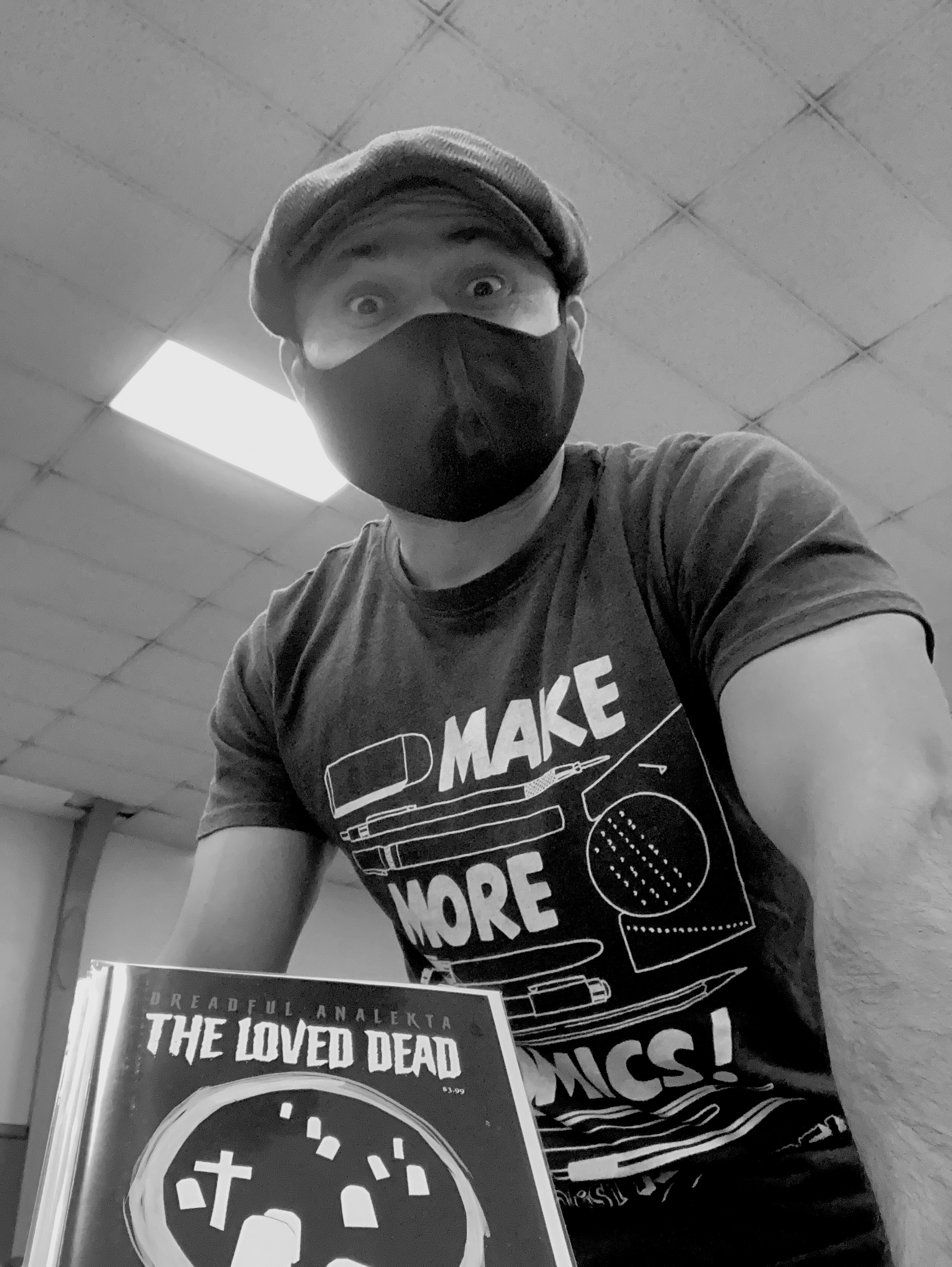 Oscar Romero
"Poor Man's Press is an imprint I created to publish some comics.  I am mainly a representational painter, you can see my work at ​​​PoorMansArt.com, but in 2020 during the Covid lockdowns I rediscovered my love for comics.   Soon I had the itching desire to create some of my own, and here we are."

Dreadful Analekta is a horror/suspense series that adapts short stories to comic form.  The first release is Dreadful Analekta: The Loved Dead, based on a story by C.M. Eddy, Jr,.


 Robert Bartron
Robert Bartron  is the author of many novels, screenplays, poems, and technical manuals. He specialized in the genre of military crime fiction. His stories are full of realistic detail and action.
A retired Naval pilot and education administrator, Commander Bartron is currently a full-time author. He lives in Sacramento, CA with his wide, two miniature Dachshunds and a very intelligent Chocolate Labrador Retriever.
 Kathey Norton
Born and raised in Sacramento, California, Kathey Norton wrote her first novel (From Loneliness to Love) while still in high school. Her first article, "Reflection on Rejection" was published in Fiction Writers Magazine when she was twenty. Her poetry has been featured in two Quill Books poetry anthologies, "Whispers in the Wind" (1989) and "Down Peaceful Paths" (1991), and two Free Focus anthologies (1990). In addition, her poetry also appeared in several issues of New Poets Generation and Poet (1991). In March 2012, her screenplay, "Precious Lives," was published in A&U Magazine. Kathey has published three novels: What Becomes a Legend Most (2014), Double Life (2015),  Diary of a Fast Food Worker, a memoir (2016), and Schoolgirl In Disgrace & Collected Works (2018), which spans Kathey Norton's 30+ year writing career.
In addition to writing novels, Kathey is a screenwriter and poet who was born and raised in Sacramento, California. When she isn't writing, she studies music with the goal of starting her own band. To learn more about Kathey and her writing, please visit her website: www.katheynorton.com, and follow her on Facebook, Goodreads, and Twitter.
 Kerry Jehanne
For 10+ years, Kerry Jehanne has been a practitioner of transformational wellness modalities. She holds a deep passion for her work and tender compassion for her clients. Her offerings include wellness-related lectures and workshops, as well as free monthly channelings of light language (a multidimensional language that is understood by our hearts and souls). 
Kerry works through writing to strengthen her voice and share her truth. Kerry wrote the books, "The Devil's Yoga: A Woman's Journey from Entrapment to Freedom" and "The Mystery of Judas." Kerry is a contributing author and editor to the book, "Pathways of Intentionality: Breaking Open into the Vastness of Devotion." Kerry is featured in the documentary, "Queen of the Sun. What are the Bees Telling Us?" and wrote a chapter in the companion book to that documentary. Kerry offered the podcast, Quantum Leaps in Healing, which explored alternative healing methods. 
Kerry's love of healing work extends to the earth and to honeybees. She has a background in organic farming and tended to honey bees for over 14 years. Kerry holds a BS in Environmental Studies from SUNY ESF and an MPS in Adult Education from Cornell University. 
 Leo Harrel Lynn
Leo Harrell Lynn supports youth and their families as a Wraparound Clinician at River Oak Center for Children. A graduate of California State University, Sacramento, he was formerly a writer and editor at Sacramento Sports Magazine, and a media relations manager and writer at The University of the Pacific and Santa Clara University. He lives in Northern California with his wife, Mary, and the memory of their dog, Bobo.
 Kalikiano Kalei
Kalikiano Kalei, who formerly possessed property on the island of Moloka'i, and who was partly brought up on Oahu, now resigns himself to being regarded as just another wild-eyed haole malihini, whose dreams (like those of so many other haoles), were dashed to bits on the island's great south coast reef. Li'dat, eh! He has written several other books, including 'Santa Cruz Sargasso, Berkeley Fog' (poetry), 'Saunas and War Toys', and 'Falling Off the Mountain' (also poetry).
 Leslie Soule
"My name is Leslie Soule (pronounced 'soul' like that part of you that is innate). I am an author who loves to try new genres and Sacramento, California is my hometown. I have an M.A. in English from National University and am a member of the English Chapter of the Sac State Alumni Association."
 William Doonan
William Doonan is a writer and anthropology professor in Sacramento, CA.  He has spent years working as an archaeologist, and years lecturing on cruise ships, traveling the world and speaking on issues as diverse as the Trojan War, piracy in the Adriatic, and the peopling of the Americas. And he loves a good mystery!
He has written lots of stories. He has also written four mystery novels, Grave Indulgence, published in 2012, Grave Passage, published in 2009, and Mediterranean Grave, published in 2011.  All three books recount the adventures of Henry Grave, an octogenarian detective who solves crimes on cruise ships. He has also written American Caliphate, a mystery novel about two archeologists returning to Peru after an ambush that nearly cost Jila her life. Still, the draw of the find that could change everything we know about the history of Western Civilization is critical: if they can get to the truth, a truth someone doesn't want them to know about.

William received my B.A. from Brown University and his M.A. and Ph.D. from Tulane University.
 David Covin
David Covin is Professor Emeritus of Government and Pan African Studies at Sacramento State University. He and his wife, Judy, an R.N., have two daughters, Wend and Holly, and three grandchildren: Nicola, William, and Claire. They live in Sacramento, California.
 Michele Brown
Michele Susan Brown is a writer, author, and speaker based in Northern California, where she lives with her husband, two dogs, cat, and the wild birds that visit her backyard feeders.

A former elementary school teacher, principal, and district-level administrator for eighteen years, Michele now spends times following her passions: writing, meditation, exercise, time in nature, swimming with wild dolphins in the Bahamas, and travelling on unique adventures all over the worlds with her husband, Gordon.
Michele enjoys connecting with others and engaging n deep discussions about the importance of listening to our own intuition, being brave and vulnerable, and the freedom found in authenticity and truth.


Eric Warren
Eric H. Warren, author of Eagle Rock, has lived in the community most of his life and brings to this project extensive experience as a leader and participant in the political and artistic life of the community. The photographs in this book are from the extensive archive of the Eagle Rock Valley Historical Society. Many images are courtesy of loyal Eagle Rockers, including Joe and Henk Friezer, father and son, who together photographed the community for over 50 years.
 Maria Herndon

Maria Pryor Herndon taught secondary and college mathematics for forty-eight years. Today, she avidly reds diverse literature, tutors mathematics students, and enjoys time with her four grandchildren. Born and educated in Chicago, Maria currently resides in Sacramento, California. She is also author of A Man to Love.

 Mariah Perry
Mariah Perry is a lover of knowledge, insight, and wisdom. Her love for writing dates back to childhood. Perry continued to nurture this passion as a hobby until adulthood. After obtaining her Bachelor of Arts in Psychology and working in the mental health field for years, she began to create content to assist others. She aspires to encourage others to use their pain and turn it into power. Perry's mission is to uplift others through relatability, wisdom, insight, and applicable knowledge.